1955 Better Homes & Garden 5-Star Plan #2004 home designed by Cliff May
(original blueprints are available):
Short-sale (will sell in the very low $200ks)
2 BD+ 1Office, 1.75BA, 1,615 Sqft according to tax info (plans state 1,800 Sqft); Lot size 15,525 sq ft / 0.36 acres with pool.
This uncommon Cliff May architectural gem is located in one of the best areas of Fresno. Despite the apparent aesthetic neglect mostly generated in the past year, this home is in pretty good overall condition and surrounded by many amazing custom MCMs. It's just asking for a sensitive restoration to make it look its best.
The 5-Star home program was a way for Better Homes and Gardens to provide anyone access to quality home plans at a minimal cost, and a way for builders to promote their homes to a broader audience. This program also allowed Better Homes and Gardens to present the best aspects of a home's appeal regardless of style. This was especially important when featuring a "modern" home as early as 1950 since some buyers were less familiar with the benefits of living in such spaces.
The 5-Star #2004 plan was the first CM ranch developed for a city lot, and later led to the famous CM pre-fabricated home designs with Choate.
The #2004 prototype in Laurel Canyon is shown in the "Western Ranch Houses by Cliff May" book, pages 92-99.
Pictures of the original April 1950 BH&G issue with the #2004 plan are shown in Joe's Flickrset (thanks, Joe!):
http://www.flickr.com/photos/barthlow/3 ... 733482316/
In 1964 an addition was made where the louvered open carport and the lanai were enclosed and the clerestory windows closed. A courtyard awning structure was also added. From what I saw of the house, all those changes can all be easily undone.

Exterior walls of long redwood board & batten. Interior walls are mostly paneled with redwood-heart, and all the custom cabinetry and windows are original. The fired adobe brick used in the house is unpainted and intact. The flooring under the carpet throughout the house is stained concrete (it puzzles me why it was ever covered!)

As the pictures show, the kitchen is in mostly-mint condition, with working stainless Thermador oven, cooktop, etc.

The lot is pretty large at 0.36 acres, and needs some TLC due to neglect. It it has good mature vegetation and nicely designed landscaping beds
(a Thomas Church design in a different variation from the Laurel Canyon prototype? Not sure, but it can be restored).
There's a paved courtyard out of the kitchen area, surrounded by mature trees that can be nicely landscaped. Notice the original laundry-tree in the picture, another cool restoration project: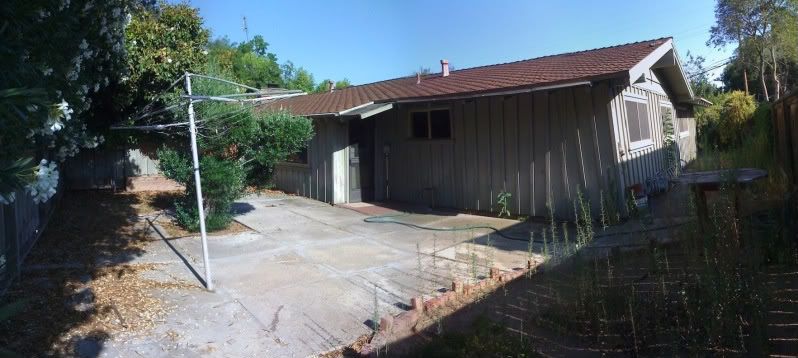 A photo album is below (pictures of original blueprints included + the plans of the add-on):
http://s44.photobucket.com/albums/f6/Ga ... iff%20May/
Google Streetview:
http://maps.google.com/maps?f=q&source= ... 21,,0,1.94
Any questions about this property should be directed to the listing agent
Eldon Daetweiler @ eldon@fresnomodern.com
or by calling
559-960-3229