Moderators: I_LUV_POWER!!!!, Joe, moderns-r-us, Tony, Futura Girl, sean, nichols, Java, Matt Deckard
The NYT today referenced this intriguing blog and, yes, that's room in a doll house!
scowsa
---
Besides being an avid MCM fan, I'm also a vintage Barbie fan/collector. I'd give anything to have a hip cool house to display my vintage Barbies! I've done many a Google search over the years and have run across some intresting doll houses. One, if I can find it again, was done by Eames himself. Can't imagine what that would cost to buy now-a-days. *shudders*

Great pic!
It may not look like it, but at the molecular level I'm actually quite busy.
---
---
Nice. Is that yours? Little start but has potential! It reminds me of the sorts of homes I used to build in my Sims game. Just like playing with a doll house, only virtual.
Here's a pic of the eames one I mentioned: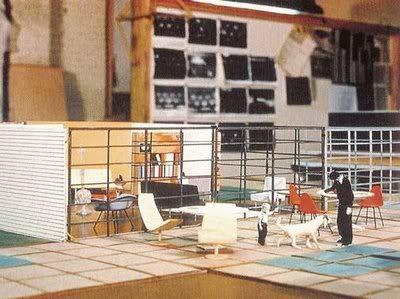 quote from the page:
Charles & Ray Eames Revell dollhouse (never produced but somebody has that prototype)
From this site:
http://minimodern.blogspot.com/2007/08/ ... ouses.html
But, Im partial to the simplicity of this one I found years ago. I've asked Mr. Wonderful if he could build it for me: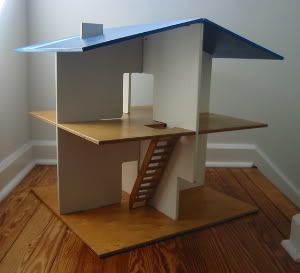 It may not look like it, but at the molecular level I'm actually quite busy.
---
Lotta Living Hostess

Posts: 4161
Joined: Wed Aug 14, 2002 11:54 pm
Location: Las VEGAS babay!
Contact:
We cannot have a Modernist dollhouse thread without mention of Marx Imagination Dollhouse, the quintessential home for the aspiring Modernist in your family. Complete with modular design and Eames era furnishings.
there some good shots in this flicker photoset here:
http://www.flickr.com/photos/superjunk/ ... et-396946/
---
---
---
---
Return to "Everything Else and the Kitchen Sink"
Who is online
Users browsing this forum: No registered users and 3 guests