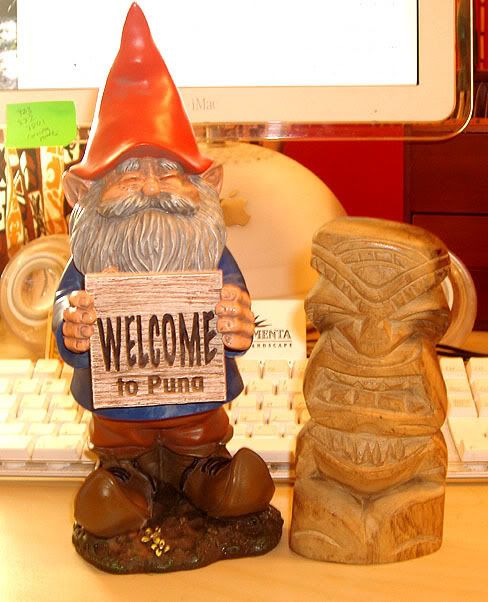 Hey all. Here's something really fun I'm participating in...kind of like an interactive art project. It's called Puna Gnome.
Basically someone on
http://www.punaweb.org
, the message board for the Puna District of Hawai'i, decided to start this thing and I decided participate. Here's the skinny... this garden gnome is being sent from one location to the next. It started in Puna, Hawaii, and is being sent to different places around the world. You can be a "host"...you take some pics of the Gnome in various places around where you live, then send it off to the next person on ths list. Then you send the pics and some verbage to the guy who started this thing and he posts it on the website
http://www.punagnome.com
. in a travel diary. There are like 10 people already signed up for this, and the list is growing. Just for the sake of TIKINESS, I decided to add one of my tikis...TIKIYAKI JR... from my collection to travel along with the PunaGnome to be photographed too. So far it's been really fun, and you can see my participation here....
I'd love to see some people from LL get in on this...
Here's the posting on punaweb.org
"Allow me to introduce Bud the Puna Gnome.
"Hi folks, names Bud. I'm pretty new to the Puna area myself but am excited to have been given the prestigious ambassador title.
As the gnome ambassador for Puna I will be traveling around the U.S. visiting strange people, having my photo taken and having a good ole time.
My agent, Tony is in the process of setting up my itinerary at the moment. We are looking for Punawebbers to help kick this thing off. The general details are on my website at
http://www.punagnome.com
so go check it out. If you have any questions feel free to contact myself or Tony.
I'll let Tony give you the rest of the details. Hope some of you wanna participate. Bud.â€
Ok so you heard it from Bud. Let me know if you would like to be a gnome host for the chain gnome. Senior Punaweb members will be given first dibs assuming they care
_________________
[ This Message was edited by: tikiyaki 2006-09-30 07:41 ]