Hey Guys,
I'm selling what I think is a pretty cool piece that I need to let go of to make more room in the dining area. It's sort of a one-off piece because I wanted to make it taller by adding some wire / hairpin legs to use as a buffet cabinet next to our dining area.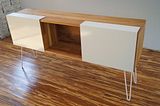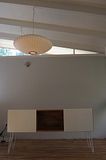 I posted in on Craigslist. Here's that add;
http://losangeles.craigslist.org/lgb/fuo/2700251862.html
If you are reading this AFTER the CL add has expired, or just want to see where the piece came from, you can click here to see other images;
http://www.laxseries.com/work_and_study/3X_shelf_with_base.html
As the Craigslist add says, I'd prefer to sell it local.
You can pick it up, or I can deliver it local within 50 miles of zip code 90808.
I would be willing to ship it, but you'd need to pre-pay and make all of the arrangements yourself.
If you're interested, let me know.
If you have any other ideas where I could post something like this for sale, that could be rad too.
Thanks,
Gary - - -
562.505.6445 (cell)[/url]