Name: Premier Apartments, later: Orchid Tree Inn
Architect: Albert Frey
Year: 1957
Street: 261 S. Belardo, on the N.W. corner of Baristo & Belardo
City: Palm Springs
State: CA
Country: USA
Type: Motel
Style Two-story Mid-Century Modern
Status: Destroyed by fire on July 18, 2007
Description: This Frey-designed apartment building was originally sited across the street to the east. After the original owners died, the inheritors wanted nothing to do with it – preferring to use the property as a parking lot. Rather then demolishing the building, they sold it to the Orchid Tree Inn, a small Spanish-style motel to the west. The building was cut in half, placed on rollers, and rolled across the street. There it was reassembled and used as a motel.
This was a two-story chevron-shaped (in plan) structure with patios and balconies facing a pool. Originally the walkway railings were faced with corrugated fiberglass – a typical Frey material, generally in a pale yellow, green or blue color. Subsequently they and most of the building was painted a dark brown. Most distinctive of Frey were the windows on the two second-story end units. These were circular and shaded with a cylindrical aluminum shade, very similar to those used on his own house: Frey House I, and on the North Shore Yacht Club.
The Orchid Tree Inn sold a year or two ago. The new owners had a scheme to convert it into time-share condominiums. Some demolition to the property began, and then the project stalled. The project has looked abandoned and had been vacant for 14 months. Then on Wednesday night, July 18, 2007, a "very suspiciousâ€
fire erupted which gutted the second story of the Frey building and caused major damage to the first floor.
Some nice photographs by Julius Shulman: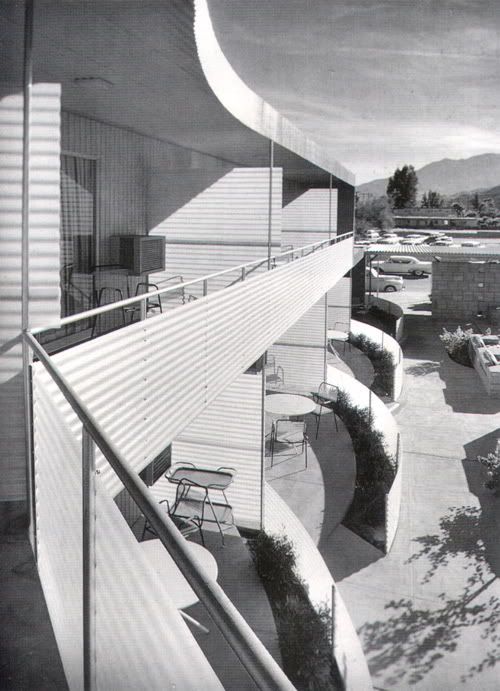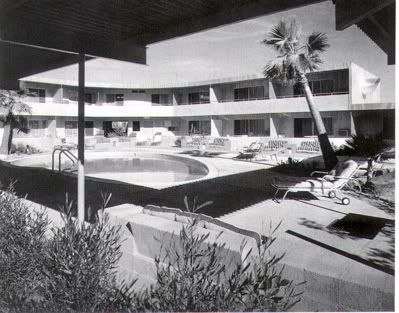 Links: Desert Sun article about the fire:
Photograph of Frey House I showing the distinctive cylindrical window shades that were also used at the Premier Apartments:
Lotta Living Thread on the North Shore Yacht Club:
Tony