Moderators: I_LUV_POWER!!!!, Joe, Adriene, moderns-r-us, Tony, Futura Girl, nichols, Java
Modern Socialite
Posts: 51
Joined: Mon Feb 21, 2005 7:24 pm
Location: Dallas,TX
[phpBB Debug] PHP Warning: in file [ROOT]/vendor/twig/twig/lib/Twig/Extension/Core.php on line 1266: count(): Parameter must be an array or an object that implements Countable

---
---
---
Modern Master
Posts: 117
Joined: Sun Dec 15, 2002 10:16 pm
Location: Springfield, Missouri
Contact:
i just got a scrap piece of steel tube 4' in diameter 24" tall. i filled the bottom 3rd with sand then lava rocks and then i just burn wood on top of that.

this cost me about $30

i also have an old modern fireplace outside as well.
---
Modern Socialite
Posts: 36
Joined: Tue Oct 18, 2005 10:39 pm
Location: MCM Allied in Scottsdale, AZ
Contact:
I saw that someone else had a similar "preway-style" fireplace outdoors.
Here's another example of that re-use in a Phoenix, AZ Ralph Haver home: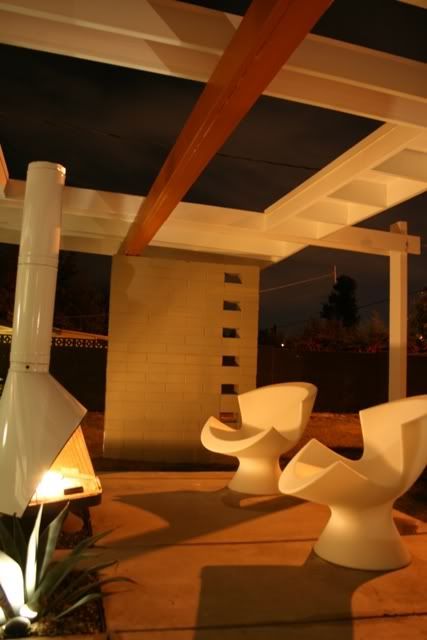 Jennifer Hibbard
Owner of Twins & Co. Realty
www.ScottsdaleModern.com
Avatar photo is my MCM Allied home in Scottsdale, Arizona
---
Modern Fan
Posts: 24
Joined: Tue Dec 04, 2007 7:07 pm
Location: Downtown Mesa, AZ
Contact:
"Whoopin' ass and fussing over complementary color harmonies since 1968"
---
Modern Master
Posts: 334
Joined: Tue May 15, 2007 8:28 am
Location: 15 min. South of Seattle
Contact:
old thread i know, BUT, the gas company came out today. (unannounced)
they wanted to check our pool heater line and do some work on it. we unhooked it about a year ago so they very nicely just rerouted it outside of the shed so we can hook up a fireplace now! yeah!
most of the ones on this thread are traditional wood fire pits.
anyone have a good gas one? not more than 400 dollars, i would think that to be our limit.
Thanks!
---
---
[phpBB Debug] PHP Warning: in file [ROOT]/vendor/twig/twig/lib/Twig/Extension/Core.php on line 1266: count(): Parameter must be an array or an object that implements Countable

Return to "Mid Century Modern Houses and Homes"
Who is online
Users browsing this forum: Majestic-12 [Bot] and 7 guests