(Three words I never expected to see together in one sentence... O brave new world that has such post titles in't!)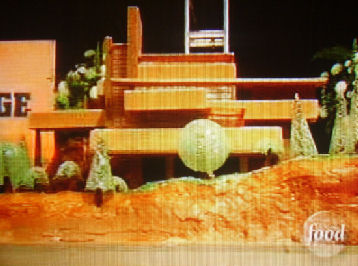 The Incredible Edible Mansions episode of Food Network Challenge is on again this evening- repeating several times over the weekend:
Tariq Hanna created a fabulous replica of the house, right down to the construction problems! Details about the construction and Tariq Hanna:
The Life Without Buildings blog offers a few images of the house, under construction and completed. I loved the trees, which reminded me of the abstract versions used in older architectural renderings:
After searching for more information about Tariq Hanna's work, I found out that Fallingwater is not an uncommon choice for gingerbread artistes (or rather, it is uncommon but not as uncommon as I would have thought). Middle school students created the one shown on this blog:
(Dig the gingerbread Waffle House at the top of the page.)
Finally, I came across an interesting podcast from Ted Wells about Fallingwater and its appeal, inspired by the vision of a gingerbread Fallingwater displayed at the George Eastman House:
Poking around a bit in Ted Wells's site...
... I found another podcast about Richard Halliburton's Hangover House, which I haven't had a chance to listen to yet (having wasted far too much time "researching" gingerbread renditions of Fallingwater this afternoon).
Cheers,
Jean