good one:) It's not that bad, is it?
Built this the other day after looking at the Wilkerson Furniture
M21 somewhere online. I told myself, "well that looks pretty easy"
Plus I was tired of the TV being mounted on the wall with the
swing arm. Anyhow, all it took was a bit of planning, a few
modifications, & putting one thing together, but looking
ahead three steps into the procedure at all times.
(the only thing I'd do differently is make the height
of the entire box about 7 or 8 inches shorter so the
fabric area is a bit less) I was basing proportions on that one
picture, and after I was done, I found out it was a 42" plasma. Mine is
a 32".
I will probably get better angle plates for the legs too.
So,
2 pcs of 1"x10"x42"(cheapest thing at lowes..white pine $8)
2 pcs of 1"x10"x32"(cheapest thing at lowes..white pine $8)
screws($4)
pc of plywood(already had)
2" cove molding(random customer in building supply store $5)
cheap fabric(fabric store $3)
3/8 square dowels(lowes $0.98x5)
four 8" angled leg dowels(already had)
cabot stain(already had)
[b]TOTAL: $33
So, instead of $3600 as you can see below, I saved $3567. LMAO!
Here it is in all it's blurriness...........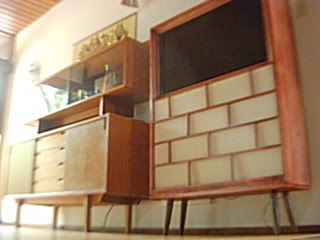 Here's the original Wilkerson..........