I'm listing an issue of
House and Garden
from 1958 on eBay and as I was busily scanning, this enchanting appliance caught my eye...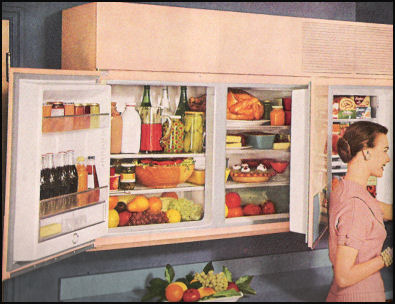 Now, why on earth didn't these catch on?! "Truly, it is the most convenient and magnificent refrigerator-freezer ever produced" reads the ad, and I don't doubt it. The ad also notes that only a limited number are being produced... but why? These things should have taken the world by storm! I did a Google search and found that one for sale (!) on-- you guessed it-- eBay:
A bargain at $127.50. I see model on eBay is Canary Yellow with a Petal Pink interior. I'm swooning.
So, who killed the wall fridge???